Interceptor® Plus (milbemycin oxime/praziquantel) for Dogs
Interceptor® Plus is a monthly chew that protects dogs and puppies 6 weeks or older and 2 pounds or greater against heartworm disease, adult hookworm, roundworm, tapeworm and whipworm infections.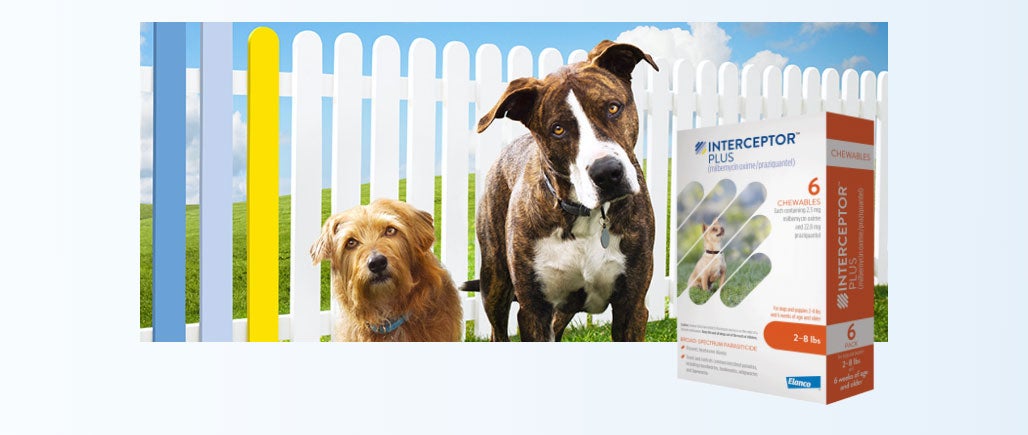 Why choose Interceptor® Plus for your dog?
Protect your dog against five of the most common types of worms that infect dogs.

Single monthly tasty chew for easy administration

Available in four different dosing sizes, making it easier to treat dogs of many different sizes with one chew

Also treats and controls hookworm, roundworm, whipworm and tapeworms
Complete 5-worm protection starts here
Prevents: Treats and controls:
Heartworm disease
Hookworm, roundworm, whipworm and tapeworm
Works for:
Dogs and puppies 6 weeks or older and 2 pounds or greater
Form:
Chewable (real chicken flavor)
Purchasing Interceptor® Plus is easy and convenient
Protects against all 5 major worms, not just 2 or 3
Interceptor® Plus protects your dog against not only heartworm disease, but all five major worms including heartworm, hookworm, roundworm, whipworm and tapeworm. That's more types of worms than Heartgard® Plus (ivermectin/pyrantel) and Simparica® Trio (sarolaner/moxidectin/pyrantel).
Ask your veterinarian if Interceptor® Plus is the right choice to protect your dog.
Maximum efficacy starts with the right dose of worm protection.
Every dog is unique, and yours is no exception. Finding the right dosage is a first step in making sure that your dog's worm protection is effective. Proper administration is also important because it ensures that Interceptor® Plus (milbemycin oxime/praziquantel) can do its job to its fullest ability and keep your dog protected.
For maximum efficacy, your vet will prescribe based on your dog's weight and may reference the provided dosage/weight chart.
How to administer Interceptor® Plus
1. Remove one tasty chewable from its packaging
Check to make sure that the chewable has not expired, and remove from packaging.
2. Administer chewable
Your dog can take the chewable from your hand or with a small amount of food. Just make sure they consume the whole dose.
3. Check for complete ingestion
After your dog has taken the chewable, observe your pet for a few minutes to ensure that no part of the dose is lost or rejected. If you suspect that any of the dose has been lost, redosing is recommended.
$15 Interceptor Plus rebate
Enjoy savings on your prescription.
GET REBATE
Register for reminders
Get text or email reminders when it's time to give your dog each monthly dose, or refill their Interceptor Plus prescription.
REGISTER NOW
Indications for Interceptor Plus
Interceptor Plus prevents heartworm disease and treats and controls adult roundworm, hookworm, whipworm, and tapeworm infections in dogs and puppies 6 weeks or older and 2 pounds or greater.
Important Safety Information
Treatment with fewer than 6 monthly doses after the last exposure to mosquitoes may not provide complete heartworm prevention. Prior to administration of Interceptor Plus, dogs should be tested for existing heartworm infections. The safety of Interceptor Plus has not been evaluated in dogs used for breeding or in lactating females. The following adverse reactions have been reported in dogs after administration of milbemycin oxime or praziquantel: vomiting, diarrhea, decreased activity, incoordination, weight loss, convulsions, weakness, and salivation. For complete safety information, please see Interceptor® Plus product label or ask your veterinarian.
Indications for Credelio
Credelio kills adult fleas and is indicated for the treatment and prevention of flea infestations and treatment and control of tick infestations (lone star tick, American dog tick, black-legged tick and brown dog tick) for one month in dogs and puppies 8 weeks and older and 4.4 pounds or greater.