Drontal® Plus (praziquantel/pyrantel pamoate/febantel) for Dogs
Want confident protection for your dog? Nothing treats and controls more intestinal parasites in dogs than Drontal® Plus*. That's why Drontal® Plus is the No. 1 best-selling broad-spectrum dewormer for dogs.1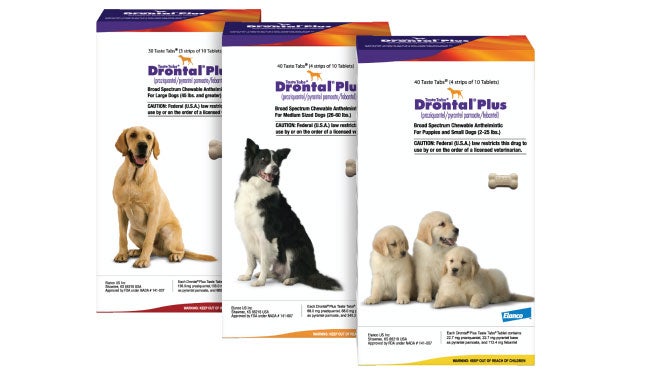 Why choose Drontal® Plus for your dog?
The No. 1 best-selling broad-spectrum dewormer for dogs1

In a single dose, Drontal® Plus safely and effectively removes nine different species of hookworms, roundworms, tapeworms and whipworms†

Available in both tablets and chewable beef-flavored Taste Tabs® designed to make dosing easy
Treats:
Tapeworms, roundworms, hookworms, whipworms
Works for:
Dogs and puppies that are at least 3 weeks of age and weigh at least 2 pounds
Treatment frequency:
As recommended by veterinarian
Veterinary prescription required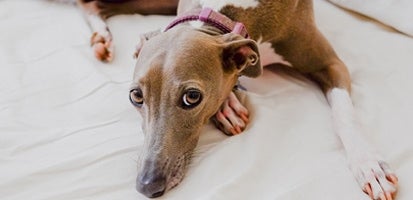 Intestinal worms love your dog (almost as much as you do).
When intestinal worms are left untreated, they can cause a great deal of damage to your pet's health. By asking your veterinarian about Drontal® Plus, you have the power to help treat against intestinal worms.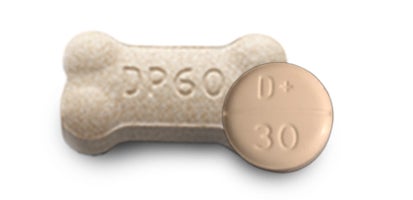 Drontal® Plus is as easy as it is effective.
Drontal® Plus Tablets may be given directly by mouth or offered in a small amount of food.
Drontal® Plus Taste Tabs® provide a tasty treat-like experience through the flavor of beef.
Ready to protect your dog from intestinal worms?
Drontal® Plus is the most comprehensive dewormer* for dogs.
TAPEWORMS

Echinococcus granulosus

Echinococcus multilocularis

Taenia pisiformis

Dipylidium caninum

ROUNDWORMS

Toxocara canis

Toxascaris leonina

HOOKWORMS

Ancylostoma caninum
| | | | |
| --- | --- | --- | --- |
| | | | |
| TAPEWORMS | | | |
| Echinococcus granulosus | | | |
| Echinococcus multilocularis | | | |
| Taenia pisiformis | | | |
| Dipylidium caninum | | | |
| ROUNDWORMS | | | |
| Toxocara canis | | | |
| Toxascaris leonina | | | |
| HOOKWORMS | | | |
| Ancylostoma caninum | | | |
*Based on label comparisons for intestinal parasites in dogs.
Drontal and Taste Tabs are registered trademarks of Elanco. Panacur is a registered trademark of Intervet/Merck Animal Health. Virbantel is a registered trademark of Virbac S.A.
†Steps should be taken to control fleas and rodents on the premises in order to prevent reinfection: otherwise, retreatment will be necessary. Consult your veterinarian for assistance in the diagnosis, treatment and control of parasitism.
CAUTION: Federal law (U.S.A.) restricts Drontal® Plus to use by or on the order of a licensed veterinarian.
DOSAGE: Not for use in puppies less than 3 weeks of age or weighing less than 2 lbs.
CONTRAINDICATIONS: Do no use in pregnant animals. WARNING: Keep out of reach of children.